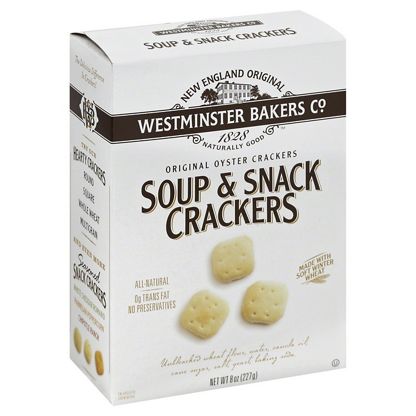 Westminster Bakers Co. Soup and Snack Crackers, 8 oz
Original oyster crackers. New England original. 1828. Naturally good. All-natural. 0 g trans fat. No preservatives. Made with soft winter wheat. Unbleached wheat flour, water, canola oil, cane sugar, salt, yeast, baking soda.
The Westminster Bakers Story: Not so many years after the American Revolution, at the hearth of a colonial house in Westminster, Massachusetts, our first master baker pulled a batch of warm crackers from the oven, and a New England tradition was born. Back then, the bakery's power came from a horse and treadmill; dough was mixed and rolled by hand, then individually stamped into crackers and baked in a wood-fired brick oven. Neighbors and passers-by delighted in the fresh-baked, hearty goodness of our breads and crackers. Times have changed, but at Westminster Bakers, we haven't. Leastways, not insofar as things that matter. The treadmill is gone, and the ovens aren't wood-fired any longer, but we still take the time and effort to bake the crackers right. We stick with the same seven, wholesome ingredients that our first master baker used nearly 200 years ago - ingredients that everyone can pronounce. The bake is still long and slow, for crackers that are simply delicious. So the more things change, the less we change. There've been only a handful of master bakers since that first batch emerged - to the delight of all who tasted it - and each master has remained true to the Westminster way of doing things. We're still in New England. And we're still stubbornly dedicated to the time-honored craft of baking - our way - the right way -the Westminster way. Please recycle. Made in USA.