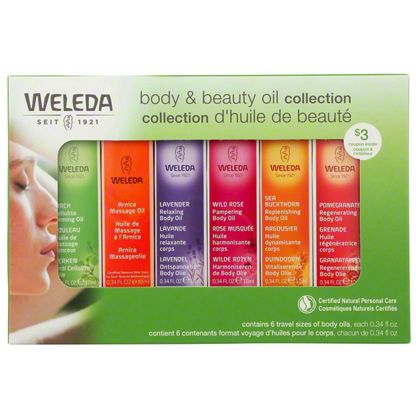 Weleda Body & Beauty Oil Collection, 6 ct
Contains 6 travel sizes of body oils.100% certified natural.


Arnica Massage Oil (0.34 fl oz): Warm and soothe tired, aching muscles with wild-crafted, sustainably grown arnica flowers from Romania, while the scent of rosemary and lavender essential oils calms the mind.

Birch Cellulite Oil (0.34 fl oz): Smooth and visibly improve the appearance of your skin with detoxifying, organic birch leaf extract sustainably harvested in Romania.

Lavender Relaxing Body Oil (0.34 fl oz): Melt away the stresses of the day with the calming, soothing scent of organic lavender oil from our fair trade project in Moldova.

Sea Buckthorn Body Oil (0.34 fl oz): Replenish and moisturize parched skin with antioxidant-rich organic sea buckthorn berry and seed oil.

Wild Rose Body Oil (0.34 fl oz): Get soft, radiant and youthful looking skin thanks to organic rosehip seed oil, rich in vitamins and essential fatty acids, from our fair trade partnership in Turkey.

Pomegranate Regenerating Body Oil (0.34 fl oz): Visibly firm, renew and moisturize dry skin with organic, antioxidant-rich pomegranate seed oil, grown on small farms in Turkey.