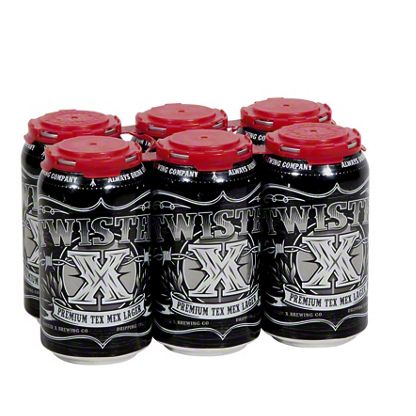 Twisted X Brewing Company Twisted X Premium Lager, 6/12 Z
Price
Select a store for pricing, select stores now also offer curbside - order online and pickup at the store!
Sold out
Twisted X Premium Lager by Twisted X Brewing Company is the foundation of the Tex Mex Beer sensation, featuring a subtle, hoppy flavor with a refreshing finish, perfect for fighting the Hill Country heat. That hint of Mexican lager flavor comes from the Richardson Farms yellow corn sourced from right here in Central Texas. Twisted X Premium Lager is a crisp, craft-quality beer that clocks in at 5.1% ABV, leaving a refreshingly clear finish and bright flavor after every sip.
Twisted X Premium Lager is perfect for hanging out on the lake or by the pool since this thirst-quencher goes down crisp and easy. Ideal with bloody Mary mix for a classic michelada!