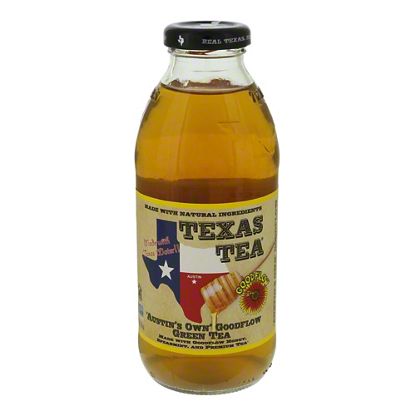 Texas Tea Austin's Own Goodflow Honey Green Tea, 16 oz
Sold out
100% all natural. No preservatives. Real Texas, real tea. Made with Texas water!! Goodflow. Go Texan. Made with premium tea. All natural. Austin's own Goodflow Honey. Austin, where the local favorite Good Flow Honey Company has been around and enjoyed since 1975, is the capital of Texas. Austin was established by the three-year-old Republic of Texas in 1839 to serve as its permanent capital and named in honor of the founder of Texas, Stephen F. Austin. Austin is also known as The Live Music Capital of the World and plays host to such music festivals as South by Southwest and the Austin City Limits. Deep in the heart of Texas, Austin is also home to the University of Texas Longhorns. Product of Texas.
• 100% all natural and made with real fruit.
• Ready to drink with six Texas inspired flavors.