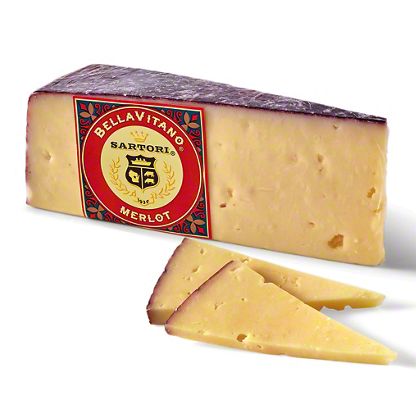 Sartori Bellavitano Merlot
Avg. 0.40 lb ea
$6.38 ea ($15.95 lb)
This is a variable weight item.
You will be charged for the actual weight of the product.
Wine and cheese go together as naturally as peanut butter and jelly, coffee and donuts, milk and cookies and, well…you get the idea. With Sartori Merlot Wheel, we've just eliminated the "and" altogether to create a "wine cheese". The bold berry and plum notes of this fruit-forward Merlot blend beautifully with this rich and creamy cheese. It's a perfect flavor combination to add to your holiday cheeseboard along with toasted walnuts and thin slices of prosciutto. By wedding this rich, creamy cheese to the berry and plum notes of Merlot, we've created a marriage of flavors destined to make your taste buds say, I do.