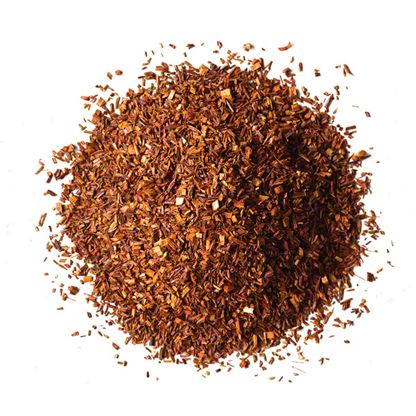 Rishi Organic Loose Leaf Rooibos, by lb
$21.99 lb
This is a variable weight item.
You will be charged for the actual weight of the product.
Rishi Organic Loose Leaf Rooibos. Prized for its attractive red infusion color, rooibos has a robust body and nectar-like flavor. Traditionally harvested in ancient times by the Khoisan nomadic ethnicities of South Africa, rooibos became popularized in the tea industry through Dutch efforts to find an indigenous African analog to black tea. Today, rooibos is grown exclusively in the Cederberg Mountain region of the Western Cape. Rooibos is rich in minerals like iron and is one of the best herbal teas for expecting mothers. This herb is simply delicious as an iced tea and is traditionally served with a lemon. Extra strong infusions of rooibos can replace espresso to create red lattés and herbal tea cappuccinos.