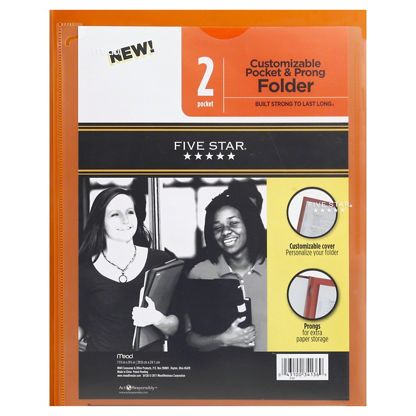 Mead Five Star Customizable Pocket and Prong Plastic Folder, Assorted Colors, EACH
Price
Select a store for pricing, select stores now also offer curbside - order online and pickup at the store!
Sold out
Durable folder keeps you prepared for class and features a plastic cover with clearview pocket so you can add your own customized cover sheet. The three prongs securely hold papers inside while loose papers are neatly tucked into the two horizontal pockets.
Features
•Plastic folder features durable one-piece construction and lasts all year
•Cover is die-cut to include a clearview pocket. Easily insert and show off your very own custom cover sheet.
•Three prongs securely hold 3 hole punched paper
•Two horizontal pockets store loose notes and assignments
•Holds standard letter size sheets
•Overall folder size: 9 3/8" x 12" x 1/8"