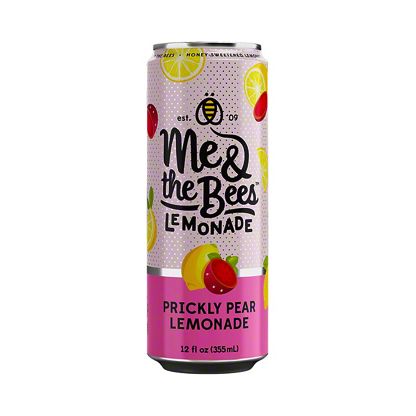 Me & The Bees Lemonade With Prickly Pear, 12 oz
Sold out
Now with 25% less sugar, a cheerful and brilliant blend of prickly pear cactus fruit and Me & the Bees Lemonade will have your taste buds humming the aromas of raspberry and watermelon. This may be the yummiest combination since...well since forever. Our award-winning lemonade uses simple ingredients. No caffeine, no high-fructose corn syrup, no artificial colors, no worries!

Featured Review
'I love this lemonade. It's not too sweet or tart. It's just right with nice and unexpected flavors and taste."

- by Anniece S.

About the Brand:
Me & the Bees Lemonade was founded by Mikaila Ulmer, a young entrepreneur, who came up with the idea to make her Great Granny Helen's delicious lemonade recipe with honey to help save the honeybees. She started her lemonade business at youth entrepreneurial events, donating a portion of her profits to organizations fighting to save the honeybees. Now at age 15, her humble idea has grown into an award-winning company in Austin, Texas with five refreshing lemonade flavors available at major grocery stores, restaurants, food trucks, and natural food delivery companies.