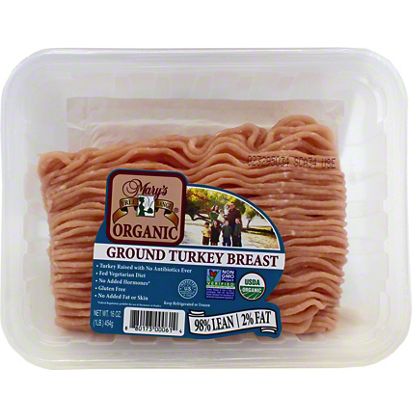 Mary's Free Range Organic Ground Turkey Breast, 16 oz
Mary's Free Range Organic Ground Turkey Breast, 95% lean, 5% fat.


Mary's Certified Organic turkeys are an additional step up the ladder in humane farming practices. These Turkeys have freedom to move about and receive a premium diet void of any chemical stimulators. Certified organic feeds must be certified by the USDA, and everything that goes into them must be certified as well. Mary's Organic Turkey feed contains:
• NO Antibiotics Ever
• Non-GMO Corn and Soybean Meal
• NO Animal By-Products
• NO Pesticide Treated Grains
• NO Grains Grown with Chemical Fertilizers
Mary's Free-Range Turkeys is proud to be family owned and operated since 1954. Mary's sons, David & Ben Pitman, are the third-generation farmers who leads the company today. David and Ben have been taught by their father, Rick, who learned from his father, Don, about the importance of animal husbandry and the responsibility to protect the welfare of animals.