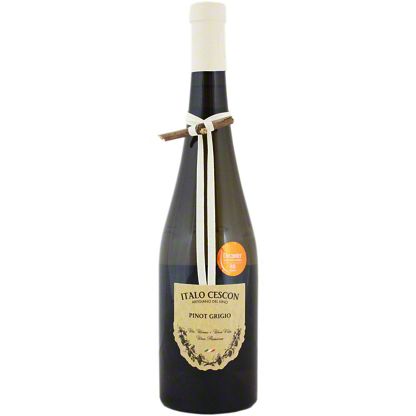 Italo Cescon Pinot Grigio, 750 mL
Price
Select a store for pricing, select stores now also offer curbside - order online and pickup at the store!
Sold out
Pinot Grigio Doc Piave "Il tralcetto" is one of Italo Cescon's older wines: they produce it since 1957. It is well appreciated all over the world for its nice packaging and for its light, very crisp and dry taste.
Tasting Notes
Colour is a rich straw yellow. Intense to the nose, with a slight note of nutmeg, peach and acacia blossom. To the palate: Dry, crisp, full flavoured, with complex fruit fragrances, in particular orange zest.
Awards
On November 2008 judged by Decanter Magazine as "best value white wine".
Winemaker Notes
"Tralcetto" is a gesture, a symbol a message: a knotty bit of cane, a branch picked out from the pruning by grandmother Anna and wound around the neck of a bottle produced by her son Italo, still a young cellar worker. Since that mild winter of 1957, Tralcetto is the visual theme of our winery: it still symbolize our family and communicates the unchanging principles that inspire our efforts: tradition and genuineness, dedication to work and love for earth.
Food Pairing Notes
Enjoy with shellfish and with seafood dishes in general .