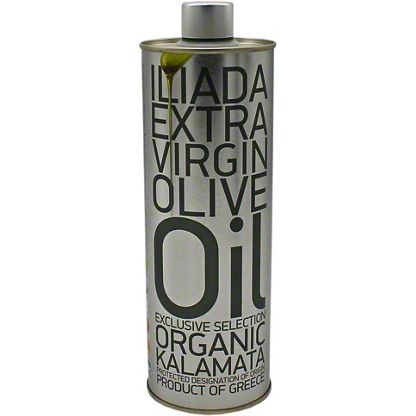 Iliada PDO Organic Kalamata Greek Extra Virgin Olive Oil, 16.9 oz
This organic extra virgin olive oil is produced by a cold extraction method using Greece's finest olives. Since ancient times, Greek women have had a special preference for using olive oil in their cooking. With its wonderful golden color and its fine taste, olive oil remains the standard for cooking flavorful and delectable dishes. Packaged and produced in Greece. Imported in the USA by Optima Foods, Inc.
Named after the Iliad, one of two epic poems in Ancient Greek literature attributed to Homer. As a tribute to Homer our flagship brand bears the name ILIADA embodying our heritage and the healing properties of nature passed down from generation to generation by our ancestors.
This exceptional olive oil comes from handpicked Koroneiki olives of organically cultivated trees in the region of Kalamata, in the South Peloponnese.
- Groves located on the slopes of the Taygetous mountain
- First cold pressed and has a naturally low acidity of less than 0.4%.
- Produced according to the international standards and regulations for organic farming.
- Fruity, sweet and light with a mild taste of olives
- Ideal for salad dressing, grilled fish, pasta and vegetables