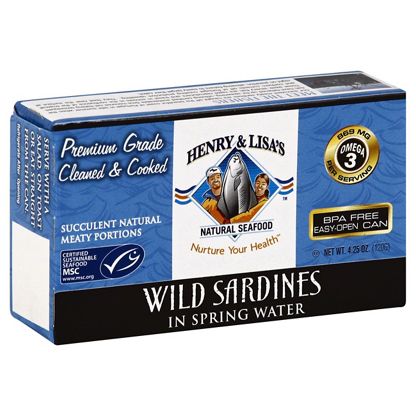 Henry & Lisa's Natural Seafood Wild Sardines In Spring Water, 4.25 oz
Premium grade. Cleaned & cooked. Succulent natural meaty portions. Certified sustainable seafood - MSC. Natural seafood. Nurture your health. 869 mg omega 3 per serving. BPA free easy-open can.
Meet the Fishers: Our succulent meaty sardines are caught off the beautiful coast of Portugal in late summer when the fish have fattened up for spawning, utilizing certified sustainable time-honored net fishing techniques. These sleek silvery fish are rapid reproducers and travel in schools in the confluence of the tropical and northern currents off of Portugal creating productive upwelling. They feed near the surface at night on plankton, allowing fishers to easily target their catch. Dear Friends: Thank you for your support! Our mission is to be your family's trusted source for the world's healthiest, safest, highest quality, sustainable seafood - naturally.
Packed with amazing nutritional benefits (CoQ10, vitamins D & B12, protein, phosphorus, niacin, calcium, potassium, iron, selenium, omega-3's), our Portuguese sardines are a nutritional powerhouse. We traveled throughout Portugal visiting traditional micro-canneries to find the highest quality most sustainable sardines available. Considered historically the true sardine, Portuguese sardines have the meatiest tuna like flavor in the world. They are hand-packed in a local family owned micro-cannery using time-honored artisanal canning methods, helping preserve the meat's texture and valuable oil content.
They are wildly delicious; try eating them straight from the can! - Henry & Lisa. Serve with a salad, on toast or eat straight from the can. Thank you for choosing seafood that has met the MSC's global standard for sustainability. Together we can help protect fish stocks for the future. MSC certified. BPA free can. Superfood. Good source of omega-3. Wild product of Portugal.