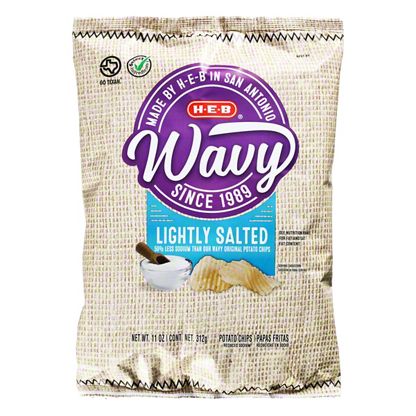 H-E-B Select Ingredients Lightly Salted Wavy Potato Chips, 11.00 oz
Price
Select a store for pricing, select stores now also offer curbside - order online and pickup at the store!
Sold out
Our H-E-B Wavy Potato Chips grab more dip so you can really savor the flavors you crave! To find your favorite flavor, try them all. H-E-B Wavy—Made for the love of Texans.
About H-E-B Select Ingredients:
With H E B Select Ingredients, you'll enjoy foods with carefully selected ingredients and BPA free packaging. We never use high fructose corn syrup, artificial flavors and hundreds of other synthetic ingredients that may be used in processed foods. For a complete list of ingredients not allowed in H E B Select Ingredients and a list of additional products to add to your shopping list visit heb.com/select.