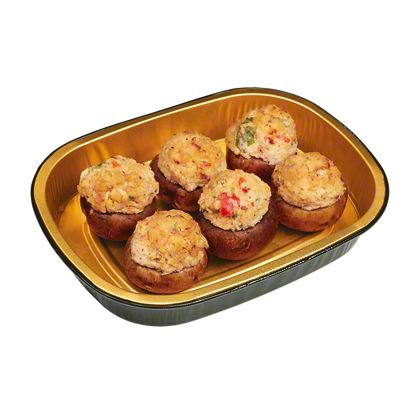 H-E-B Meal Simple Spicy Crab Stuffed Mushrooms, lb
$13.00 lb
This is a variable weight item.
You will be charged for the actual weight of the product.
Sold out
Our H-E-B Meal Simple™ Items offer fresh, convenient and easy chef inspired meals. We strive to use only the highest quality of ingredients. Whether you are looking for a meal that's ready to eat, heat or cook; we've got you covered. Look for a wide variety of (H-E-B Meal Simple) options in the deli, market , seafood and meal simple departments!
• Fresh portobella mushrooms stuffed with mini Maryland style crab cakes with a Texas twist
• Savory seafood spices and jalapeno peppers
• Cooks in Under 17 minutes
These delicious bite size mushrooms contain the perfect blend of seasoning, spices, and real crab meat to make your mouth water! H-E-B Meal Simple Spicy Crabcake Stuffed Mushrooms, in our convenient, oven ready tray, are ready to serve in just minutes. It's no mess cooking at its best.