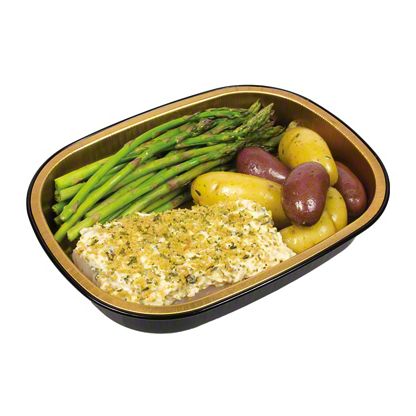 H-E-B Meal Simple Lemon Caper Dill Cod with Asparagus and Fingerling Potatoes, 13 oz
Sold out
Our H-E-B Meal Simple Items offer fresh, convenient and easy chef inspired meals. We strive to use only the highest quality of ingredients. Whether you are looking for a meal that's ready to eat, heat or cook; we've got you covered.
-Wild Caught Cod
-Garlic Herb tossed Sides
-Rich, Creamy, Crunchy Lemon Caper Dill Topping
-Ready is less than 25 minutes
Tender, flaky, wild caught cod is topped with a rich, creamy lemon caper dill spread and finished with crunchy parmesan and herb panko with garlic herb oil tossed asparagus and fingerling potatoes. This decadent white fish dish is packed with flavor and less than 500 calories!