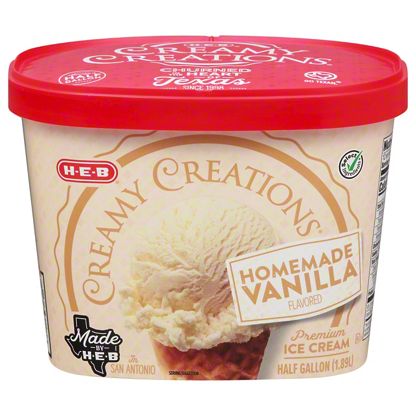 H-E-B Select Ingredients Creamy Creations Homemade Vanilla Ice Cream, 1/2 gal
H-E-B Creamy Creations Homemade Vanilla is made with fresh cream, slowly cooked the old fashion way that takes you back home. Select Ingredients approved! Our Ice Creams never use High Fructose Corn Syrup or hundreds of other synthetic ingredients. Visit heb.com/select

Do you know the H E B Creamy Creations story? Our Ice Cream story has humble beginnings and strong Texas roots. H E B Creamy Creations has been churning ice cream in the heart of Texas since 1998! Every flavor is churned in San Antonio, Texas using the freshest cream made daily in our local Creamery.