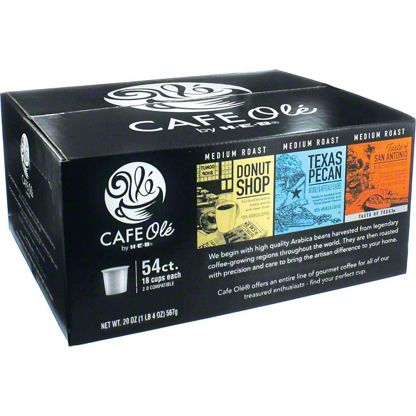 Cafe Ole by H-E-B Single Serve Coffee Cups Variety Pack Donut Shop, Taste of San Antonio & Texas Pecan Medium Roast, 54 ct
Can't decide which Café Olé flavor to try? Our H-E-B Café Ole Variety pack has you covered with our distinct Donut Shop, Taste of San Antonio, and Texas Pecan Medium Roast blends! This 54-count pack includes 18 single-serve cups of each type, and is perfect for the coffee drinker with diverse tastes.
About Cafe Ole Taste of Texas Unflavored Coffees:
Our Café Ole® Coffees provide a variety of beans, from country to region, to blends of both! Allow the authentic coffee taste and aroma to shine through. Enjoy trying them all. Cafe Olé®, a commitment to superior quality since 1997.
About Café Ole:
We begin with high quality Arabica beans harvested from legendary coffee-growing regions throughout the world. They are then roasted with precision and care to bring the artisan difference to your home. Cafe Olé® offers an entire line of gourmet coffee for all of our treasured enthusiasts - find your perfect cup.
Whether they are made in Texas, take on a familiar Texas shape or are inspired by local tastes, Totally Texas products remind us of everything we love about the Lone Star State.