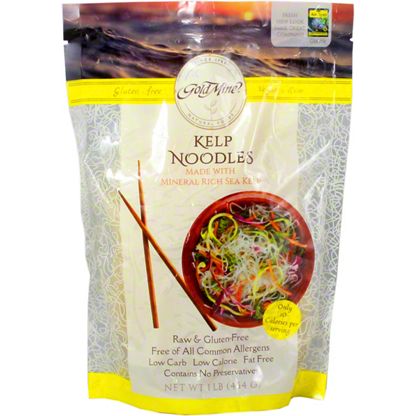 Gold Mine Kelp Noodles, 6 oz
Contains no preservatives. Ready to eat. Only 6 calories per serving. Made with mineral rich sea kelp. Free of all common allergens. Great for salads. Low-carb. Low-calorie. Fat-free. Gluten-free. Raw.
Great for salad. Fun to eat! These versatile Kelp Noodles are ready to serve right from the package! Made only from sea kelp, sodium alginate (extracted from brown seaweed) and water, Kelp Noodles are high in minerals and low in calories. Their unique texture is perfect in salad with thinly sliced vegetables. Serve hot in broth, they soften and absorb flavors well. Enjoy Kelp Noodles in salads, stir-fries, hot broth and casseroles. They are a rich source of trace minerals including iodine. Their unique, crunchy texture makes them a fun alternative to wheat pasta and rice noodles. No cooking required. This product does not contain milk, eggs, peanuts, tree nuts, soy, wheat, fish or shellfish. Product of USA.