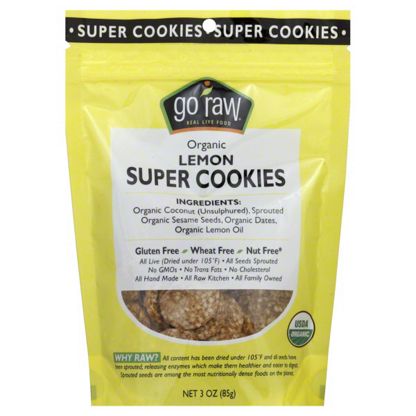 Go Raw Lemon Super Cookies, 3 OZ
Sold out
Gluten free. Wheat free. Nut free. (Contains: Sesame seeds and coconut.) All live (dried under 105 degrees F). All seeds sprouted. No GMOs. No trans fats. No cholesterol. All hand made. All raw kitchen. All family owned.
Why raw? All content has been dried under 105 degrees F and all seeds have been sprouted, releasing enzymes which make them healthier and easier to digest sprouted seeds are among the most nutritionally dense foods on the planet. USDA organic. Raw. Vegan. Certified organic. Certified wheat/gluten free. Nut free. (Contains: Sesame seeds and coconut.)
These Lemon Super Cookies are a perfect healthy treat. All the flavor in the world without any added sugar! Gently dried under 105 degrees F, they're alive and more nutritious and easier to digest as a result. Super kid friendly! Very low sodium. 25 mg omega-3 (per serving). 120 mg omega-6 (per serving). 200 mg potassium (per serving). Creating real live food is our passion. We Source the Best: The very best organic seeds are selected, preferably from local growers. We Sprout with Care: The seeds are optically sorted, soaked in filtered water, rinsed, then sprouted to perfection. We Craft the Finest: The finest organic ingredients are mixed in, then hand spread on trays. The mix is loaded into custom-built dehydrators and slow dried at an average 98 degrees F to maximize enzymatic and nutritional integrity and flavor.
We Pack with a Promise: Our products are packed and refrigerated exclusively in-house on dedicated equipment for uncompromised taste and freshness. Our Pledge: Provide the healthiest, most flavorful foods ever made. No nonsense. No gimmicks. Please Note: Products may vary in texture, color & flavor due to seasonal and crop variances. GF: Certified gluten-free. Certified Organic By: Organic Certifiers. Our quality guarantee.