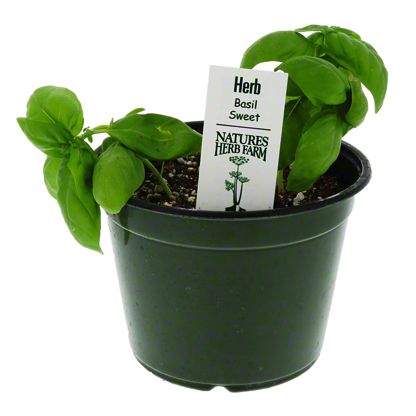 Natures Herb Farm Sweet Basil Plant, 6 in
Sold out
In the Garden:

- Sweet Basil loves the hot summer weather and well drained soil.
- It will not do as well when the temperatures drop below 40 degrees.
- It is a very tender plant so high winds or cold nights will damage the leaves.
- It grows very quickly so it is best to plant it in your garden.
- Planting it next to your tomato plants will enhance the flavors of your tomatoes.
- Trim the flowers off of the basil to promote leaf growth and also to keep the leaves from becoming bitter.
- Keeping the plants properly spaced out, adding mulch, and watering the ground instead of the actual plant will reduce the chances of diseases on your plants.

Plant Uses:

- Sweet basil is by far the most popular basil in the world because of its' distinct flavor and large leaves.
- However, "Sweet Basil" is more of a category of basils than an actual species but all "Sweet Basil" are very similar in taste, aroma, and appearance.
- The most common use for Sweet Basil is Pesto but possibilities are almost endless.
- It is used in Italian tomato sauces, soups, salads, soft cheeses, pasta salads, and sandwiches just to name a few.