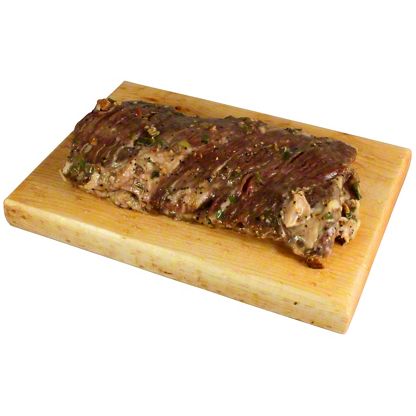 Fresh Apple Cider Bacon Marinated Beef Sirloin, lb
$11.99 lb
This is a variable weight item.
You will be charged for the actual weight of the product.
Sold out
Our beef is raised naturally without added hormones, growth promotants or antibiotics. We select grain-fed Angus beef for superior flavor provided by a sixth generation Texas ranching family, the Hartley's in Chalk Mountain, TX. We also age a minimum of 14 days for even greater tenderness. For rich, savory flavor, our Marinated Sirloin is made with tender and meaty Angus sirloin flap meat. No matter your taste, we've got a marinade sure to make your mouth water. We make our marinades like you would at home, with the finest quality spices, chili peppers, herbs, wines, vinegar, citrus juices, honey and more. Exclusive Central Market marinades are flavored naturally and contain no MSG or artificial flavor enhancers.