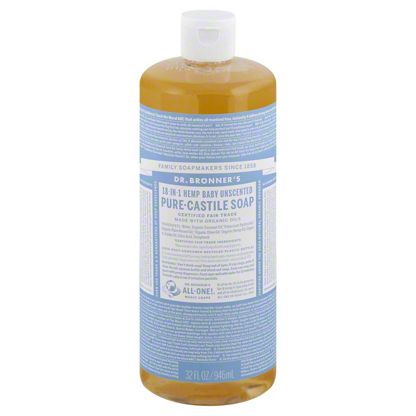 Dr. Bronner's 18-in-1 Hemp Baby Unscented Pure-Castile Soap, 32 oz
Dr. Bronner's Baby Unscented Castile Liquid Soap contains no fragrance and replaces it with double the olive oil, so it is great for people with allergies or sensitive skin. Of course, it is great for babies as well!
Dr. Bronner's 18-in-1 Pure-Castile Soaps are good for just about any cleaning task. Face, body, hair – food, dishes, laundry, mopping, pets – clean your house and body with no synthetic preservatives, detergents or foaming agents.
Made with organic oils. 100% post-consumer recycled plastic bottle. Three times more concentrated than traditional soaps. Dilute with water. Clouds when cold. Put in warm room/water: clears at about 70 F. Fair trade certified by IMO. Fair for life. Made in USA.