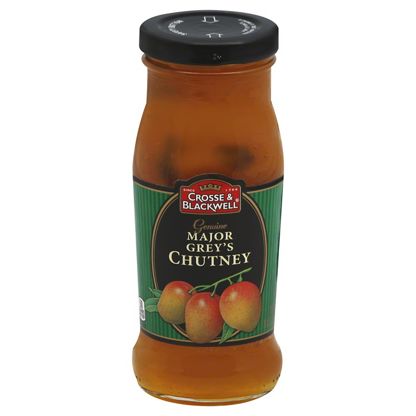 Crosse & Blackwell Major Grey's Chutney, 9 oz
Fruity and full-bodied, Major Grey's Chutney is our signature chutney. Luscious, juicy mangoes and hints of tamarind define this tart and engaging chutney. It makes an ideal marinade and grilling sauce for poultry, fish and meat. Used as a dressing, it lends a light and fruity note to salads. Pairs exceptionally well with fruit and cheese. Genuine. Since 1706.
The Crosse & Blackwell® brand has been a beloved British tradition since 1706. Our products reflect a sampling of England's great culinary influences: unique products with the finest ingredients, exotic recipes and robust flavor. Gourmet specialties include traditional Indian favorites like Chutneys, introduced to the English during the days of the British Empire.