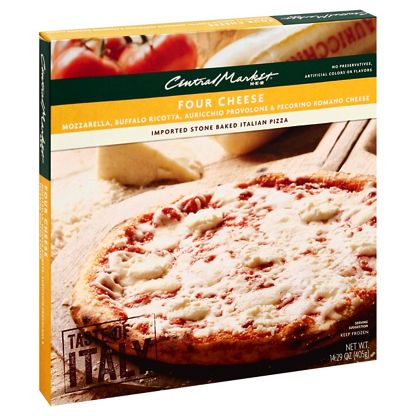 Central Market Four Cheese Pizza, 14.29 oz
Price
Select a store for pricing, select stores now also offer curbside - order online and pickup at the store!
Sold out
Anyway you slice it, our Central Market Frozen Italian Pizzas are the real deal. These hand-stretched and hand-topped pizzas are baked in Italy within 20 kilometers of where the San Marzano tomatoes are grown for the sauce and the Buffalo Mozzarella is produced for the topping. In fact, you'd have to fly to Naples to get a more authentic Neopolitan style pizza.
Imported from Italy, Central Market Pizzas bring an authentic culinary delight to the comfort of your own home. No passport required! Contains: Mozzarella, Buffalo Ricotta, Auricchio Provolone & Pecorino Romano Cheese. Stone baked, made with only the highest quality ingredients. Contains no preservatives, artificial colors or flavors.