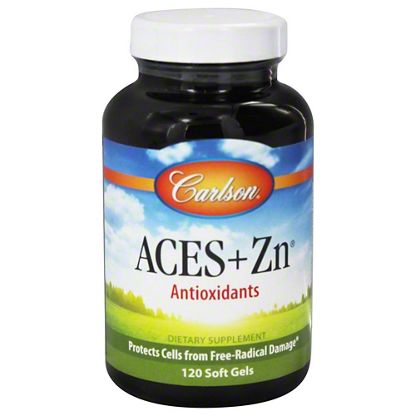 Carlson Aces + Zn, 120 ct
Helps protect cells from free radical damage
Promotes a healthy immune system
Provides the natural antioxidants selenium and vitamins A, C, and E
Includes zinc to support immune system health
Potency and quality guaranteed
​ACES + Zn® provides all of the nutrients in the original ACES® formula, plus the mineral zinc. Selenium and vitamins A, C, and E are powerful antioxidants that help protect our bodies from free radical damage. Zinc supports immune system health and is an important component of one of the body's most powerful antioxidant enzymes, superoxide dismutase (SOD). SOD repairs cells and reduces the damage done to them by superoxide, the most common free radical in the body. Get four antioxidants plus zinc all in one soft gel.

Statements on this website have not been evaluated by the Food and Drug Administration. These products are not intended to diagnose, treat, prevent or cure any disease.