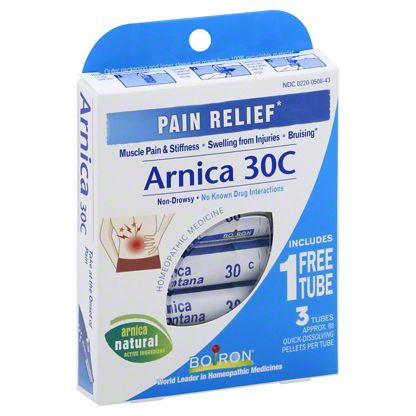 Boiron Arnica 30C Pellets, 30 ct
Homeopathic Medicine. Approx 80 quick-dissolving pellets per tube. Pain relief. Muscle pain & stiffness. Swelling from injuries. Bruising. Non-drowsy. No drug interactions. Arnica natural active ingredient. Boiron: World leader in homeopathic medicines. Arnica montana has been used for centuries as a natural pain reliever. Today, it has grown to be one of the most popular homeopathic medicines throughout the world. Arnica is trusted by professional athletes to soothe sore muscles, by prominent cosmetic surgeons to relieve post-procedure pain, and by savvy moms to treat playground bumps and bruises. (These uses have not been evaluated by the Food and Drug Administration). Made in France.
Uses: Temporarily relieves muscle pain and stiffness due to minor injuries, overexertion and falls. Reduces pain, swelling and discoloration from bruises.
Other Information: Do not use if the label sealing the clear tube cap is broken or missing. Store at 68-77 degrees F (20-25 degrees C).