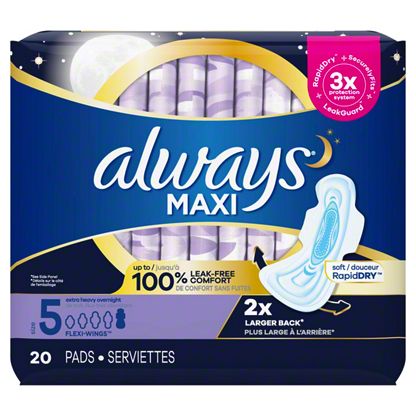 Always Maxi Size 5 Extra Heavy Overnight Pads with Wings Unscented, 20 ct
Price
Select a store for pricing, select stores now also offer curbside - order online and pickup at the store!
Sold out
Are you sure you're getting the right fit? The wrong fit can lead to leaks. Step up in size to be leak-free.
Now Always MY FIT helps you get the best protection by tailoring your pad to fit your flow AND panty size. Use the sizing chart in the images to find your fit.
2X larger back to provide better coverage for our best overnight protection (Vs. Always Maxi Regular with wings).
LeakGuard Core absorbs in seconds for up to 10 hours of protection.
Always Maxi, Size 5, Extra Heavy Overnight Pads With Flexi-Wings have a flexible design for our best nighttime protection.